Install on a Mac
You'll have been sent your configuration file by email. If you're using Mail you should be able to open the attachment straight from the email; if you're using webmail you might need to copy it to your desktop first.
1. Open the configuration file
2. You'll be taken to System Preferences > Profiles and prompted to click 'install'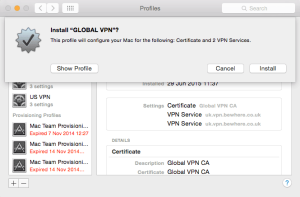 3. Configuration Profile Tool will ask you to input the password that you use to log into your Mac
4. Your profile will have been installed. To choose a server, go to System Preferences > Network, select a profile and populate 'Server Address' with one of the addresses listed further down this page.
Note: profiles that don't state "L2TP" are PPTP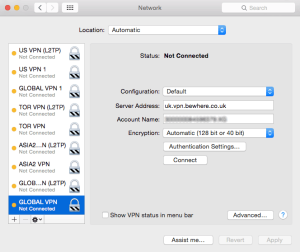 5. Click 'Connect'.
Install on an iPhone / iPad
You'll have been sent your configuration file by email. For iOS to recognise and run the file you'll need to open the email either in the Mail app or by accessing your webmail through Safari.
1. Open the configuration file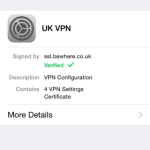 2. "Install Profile" – tap 'install'
3. Enter your passcode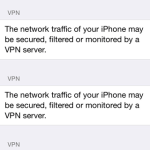 4. You'll see some warnings – 'install'
5. Your profile will be installed. Next you need to choose your VPN server. Go to Settings > VPN > tap 'i' for your chosen profile
6.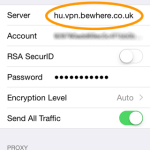 In the 'Server' field, enter one of the addresses listed further down this page then scroll to the bottom of the page and 'Save VPN Configuration'
7. To connect, go back to Settings > VPN, select a profile and tap the 'Connected' switch.
Frequently asked questions
Which VPN server will give me the fastest connection?
Ping times shown on the application's Select Country screen indicate which VPN server has the fastest connection to you, so choosing a server with a low ping time is a good start.
However, when it comes to downloading content quickly there are quite a few variables. What you want is the fastest route from your location to the server that hosts the content you need to access, but it's sometimes hard to know which connections will be the best.
Which VPN protocol should I use? PPTP, L2TP or OpenVPN?
Some regular VPN users have a clear personal preference. but if not, it probably comes down to using whichever works best for you.
Some wifi and mobile networks don't support all connection protocols so you might find that you need to try them all to find the one that works for you.
OpenVPN takes a bit longer to configure, so we'd suggest that you start with PPTP and L2TP.
Where can I find my VPN account name?
How can I connect via OpenVPN?
To use Global VPN via OpenVPN on your iPhone / iPad you'll first need to install OpenVPN Connect from the App Store.
Open the Global VPN app and go to Subscription > Reconfigure. Follow the prompts so that your main PPTP and L2TP profiles are installed, then you'll see the Global VPN configuration web page – click the "Install OpenVPN Config" link and follow the prompts.
When your profile has been installed you'll be able to connect via the OpenVPN Connect app.