Questions
1

Which VPN server will give me the fastest connection?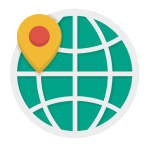 If you're using VPN with the aim of speeding up your internet connection in general you're probably best off choosing a server location that's near to you.
However, when it comes to downloading content quickly there are quite a few variables. What you want is the fastest route from your location to the server that hosts the content you need to access, but it's sometimes hard to know which connections will be the best.
We created our 'via' routes to help: they use the best connections to route traffic quickly across the globe.
For instance, if you're in Asia and you want to connect to the UK, if you connect straight to the UK you'll be using a fast connection around the country you're in, but the international traffic from there will probably use cheap bandwidth on slow connections.
If you instead use our UK via Singapore or UK via Thailand connections you should have a much faster connection to the UK – you'll be connecting to a data centre in Singapore or Thailand that has a direct route under the sea straight to the UK – fast, more expensive bandwidth on a premium tier 1 network connection.
Click here to see the Flow VPN server list in your client area
2

How can I change my VPN country, server or route?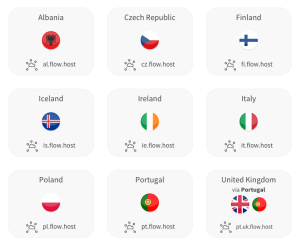 To select a different server location or VPN route from the one you're current using:
Log into your client area
Scroll down to the server list and click to select one
You'll be bounced back up the page to select your platform
For Mac or iOS we recommend downloading a new configuration file – follow the instructions.
For Android and Windows, you'll need to manually edit your profile – follow the instructions, you can choose either to edit your current VPN profile or add a new one, making it easy to use either of the servers you've chosen.
3

How many devices can use my VPN account at the same time?

Whether you're using Flow VPN, Global VPN, UK VPN or one of our other apps, up to 10 devices can use your account at the same time.
4

Which VPN protocol should I use? PPTP, L2TP or OpenVPN?

Some regular VPN users have a clear personal preference. but if not, it probably comes down to using whichever works best for you.

Some wifi and mobile networks don't support all connection protocols so you might find that you need to try them all to find the one that works for you.

OpenVPN takes a bit longer to configure and requires the installation of client software, so we'd suggest that you start with PPTP and L2TP.
5

How can I delete a VPN profile from my iPhone / iPad?
6

I can't connect, I see an error ``server did not respond``

If when you try to connect you see an error along the lines of "server did not respond", assuming that your network connection is good and you're online, it's possible that your network doesn't support the VPN protocol you're using.
If you've been trying to connect using your PPTP profile, try L2TP instead. If you're tried both PPTP and L2TP, try OpenVPN.
The other possible reason for this error is that there's a problem with the server you're trying to connect to. Use the 'select country' function in Global VPN to reconfigure your connection to use a different server.
7

How can I cancel my subscription to Flow VPN?

If you're paying for Flow VPN via a PayPal subscription you can cancel whenever you like, just log into your PayPal account, go to Settings > Pre-Approved Payments and cancel the profile for Portable Ltd. Your access will cease straight away and you won't be charged again.

Please note that if you're using Global VPN, EuroVPN, UK / US VPN, VPN Asia or Onion VPN and paying via in-app purchases you don't need to cancel, your access will automatically end on the expiry date stated in the app.
8

How can I delete a VPN profile from my Mac?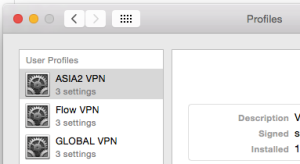 To delete a VPN profile and configuration from your Mac:
Go to System Preferences > Profiles
Select the profile you'd like to delete
Click the – button at the bottom of the profile list
…In addition to deleting the profile, the VPN configuration will be removed from System Preferences > Network