Get Better VPN

FlowVPN provides an unlimited VPN service for all your devices.
We manage a network of hundreds of servers across 88 locations in 50 countries to secure and speedup your Internet connection. Get a free trial now to secure yourself with a provider that is constantly investing in new services and technology. FlowVPN provides VPN clients for macOS, iOS, Windows and Android – just download and click connect.
We support IPSec, L2TP, PPTP, IKEv2, OpenVPN and our own SSH VPN service. Get our apps from the App Store or www.flowvpn.com/sign-up
Flow VPN PPTP Mac Client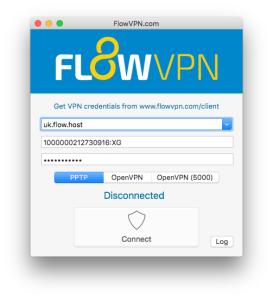 FlowVPN Connect provides an alternative method of connecting to our services using the PPTP protocol. Connect to PPTP VPN services on macOS Sierra using this client.
This client can help you connect on networks where normal IPSec connections don't work. If you would like our normal macOS VPN app supporting IPSec, OpenVPN and SSH VPN download it here
By creating a secure tunnel using the SSH protocol this client encapsulates all VPN connections in SSH hiding your traffic and keeping your personal information private.
This client also supports PPTP VPN connections on macOS Sierra.
Enter the VPN Username and Password from your client area – this is not your account password
1. Open the downloaded .dmg file and double-click the Go OpenVPN icon to install the application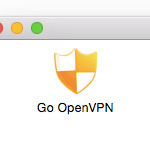 2. Open Go OpenVPN. You'll be asked to enter your Mac user password.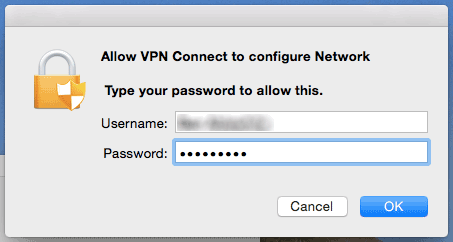 3. Accept the warning: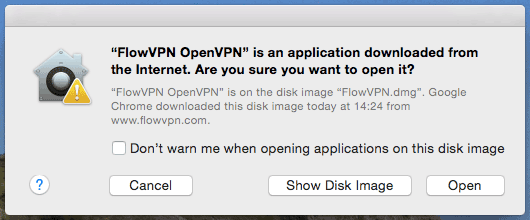 4. Choose a server from the drop-down menu and enter your FlowVPN account name (probably your email address) and your VPN password. Please note that this isn't the password you use to log into the FlowVPN website – you can find your VPN password in your FlowVPN client area.
5. Select PPTP or OpenVPN.
6. Click 'Connect'!
7. To change servers at any time, simply select a different one from the drop-down menu in Go OpenVPN before you connect.